"And, like all the best quests, in the end, I did it all for a girl: me."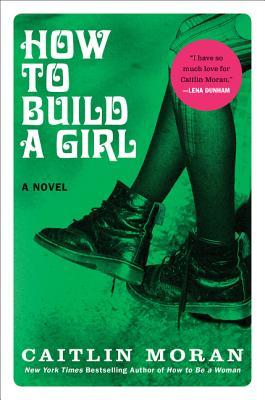 I have review Moran's books before. Most recently, I read her part biographical part culture critique How to Be a Woman  and still think everyone should read it. Like, everyone. 
Moran is a clear voice of a particular generation – those British set that grew up in the dawn on Nirvana and grunge and everything that came with that. She's brutally honest, not shying away from those things that would generally make certain people squeamish or uncomfortable. When you read her, you get this image of her staring straight ahead at you, unflinchingly, with a lopsided smile and a half-cocked brow. Her writing is fresh and funny and poignant – but I had never read a fictional work of hers. So this book had me excited and worried – I will admit it, I put my favourite authors on a pedestal and so I always worry when they're embarking on a new thing. 
As to this – my fears have been set aside – How to Build a Girl is a great piece of work – hilarious and introspective and surprising. 
All good things. 
It's 1990. Johanna Morrigan, fourteen, has shamed herself so badly on local TV that she decides that there's no point in being Johanna anymore and reinvents herself as Dolly Wilde—fast-talking, hard-drinking gothic hero and full-time Lady Sex Adventurer. She will save her poverty-stricken Bohemian family by becoming a writer—like Jo in Little Women, or the Brontës—but without the dying-young bit.

By sixteen, she's smoking cigarettes, getting drunk, and working for a music paper. She's writing pornographic letters to rock stars, having all the kinds of sex with all the kinds of men, and eviscerating bands in reviews of 600 words or less.

But what happens when Johanna realizes she's built Dolly with a fatal flaw? Is a box full of records, a wall full of posters, and a head full of paperbacks enough to build a girl after all?
Johanna Morrigan is one of those voices of a young person that reaches out across time/space to to nudge you and give you an eye roll. She's embarrassingly honest – to the point of being very critical of herself without feeling lame or self deprecating. She's on this journey of building her own character – something I think comes across well as the book is written, we get the sense in several places, by an older Johanna as she reflects on her life. So, every once and a while, we get very interesting reflections on what it means to grow up poor, to grow up confused and highly sexual and frustrated with the world and the lack of options for youth. 
She's growing up throughout the story – we start with her at 14 and end the story with her at 17 – and as the title suggests, she's building herself into the girl she wants to be. Her first sort of build is along the lines of Dolly Wilde – the name taken from Oscar Wilde's niece – a black-wearing but not goth, music critic who wants to gain a reputation for sex and coolness – two enigmatic things for any 14-year old girl. Johanna's Dolly is like a mask – sometimes quite literally, as she wears certain makeup and a top hat when she plays at being Dolly. Dolly is wild – hard drinking, uninhibited free spirit whose desire to get out of her small town and onwards to London and the rest of her life, is paramount. But Johanna is never far from the surface and she is mostly concerned with gaining sexual experience, saving her family from poverty and pulling herself up from the misery of being a teenager. Johanna is a delight – mostly because, at 14, I felt the same sort of restlessness and sexual frustration she felt. More over, I admire her because she can be so frank about it. 
As the story progresses, Johanna begins to rely less and less on her Dolly mask and begins to realize that it wasn't so much of a mask, but rather more of a part of her own evolution, and that losing it to the next incarnation of her self was just part and parcel of growing up. The last few chapters are powerful – they really are – and in more ways than I am sure I realized. There is something so liberating when Johanna finally realizes that her own development and evolution, her wants and desires, matter. And not only do they matter, but they bear consideration and work – something that she isn't quite certain of through most of the book. It seems like a simple statement to make, but it's revolutionary – to realize that you, a girl, can express yourself sexually to your own desires, as opposed to how you think a man will view you or interpret you. It's amazing. 
So, Moran's done it again – another great book I will pass down to my kids and make my Spouse read. And a book that I will share to everyone on my FB list unashamedly. 
Have you read this yet? (You should!) What did you think?