"Nutters love murder."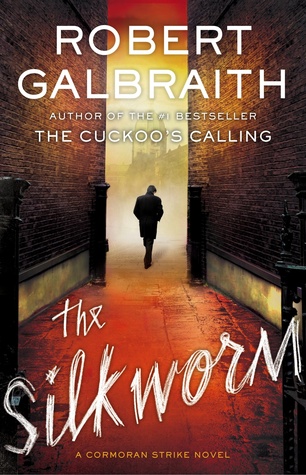 Because anyone who read Harry Potter will buy anything from JK Rowling … but also because when you do, you're rewarded with a well thought out, tight mystery novel that makes you really sweat. So good. 
When novelist Owen Quine goes missing, his wife calls in private detective Cormoran Strike. At first, Mrs. Quine just thinks her husband has gone off by himself for a few days—as he has done before—and she wants Strike to find him and bring him home.

But as Strike investigates, it becomes clear that there is more to Quine's disappearance than his wife realizes. The novelist has just completed a manuscript featuring poisonous pen-portraits of almost everyone he knows. If the novel were to be published, it would ruin lives—meaning that there are a lot of people who might want him silenced.

When Quine is found brutally murdered under bizarre circumstances, it becomes a race against time to understand the motivation of a ruthless killer, a killer unlike any Strike has encountered before…
First, I think it bears mentioning: Here in this novel, we have JK Rowling's mouthpiece, Cormoran Strike, delve deep into the awfully miserable world of … publishing. Book Publishing. Can we just take a moment to appreciate that? Given that JK Rowling herself is highly critical of some aspects of the craft, and had to write this series of books under a pseudonym in order to get a fair shake … 
This sums it up deliciously:
"…writers are a savage breed, Mr. Strike. If you want life-long friendship and selfless camaraderie, join the army and learn to kill. If you want a lifetime of temporary alliances with peers who will glory in your every failure, write novels."
Right? Right. 
Moving on …
I liked this book – the characters are real – they're misshapen balls of dough that sometimes act in ways we don't understand, and other times say things that we wouldn't have thought of. They're not formulaic, though there is a method to their cariactures. Strike, in this novel, seems even more depressed than in the previous novel, even though his circumstances have improved … well a little bit. He's even more prickly than before, but unlike the previous novel, we have more of an insight into his thought processes – particularly where they concern both his relationship with his secretary/potential partner Robin (even though their miscommunications drove me mad throughout) and his own reflections on the war, army life and fate and other such things that circumvent those. 
Besides, he makes the perfect straight man for the people in publishing – which are equal parts crazy and ruthless. And wonderful – just brilliant characters. Entertaining to read about, even if they sometimes get a little stereotyped. Rowling has a gift for writing the stereotype-character with a nuance that makes you kind of smile, nod and see things in a different way – don't get me wrong: she has an agenda, and you can tell – but it's fun to read. 
And now to the murder itself: Kept me guessing until the last possible second. And I appreciate that in a murder mystery. It's tightly woven – all the clues are written throughout the story, littering the narrative for you to look back on and shake your  head with the realization that it was all right there. Like the previous novel, this mystery relies on perception and perspective, something that is always haphazard in a murder investigation, and with good reason for a mystery novel. That being said, the ending seems earned and it's satisfying, even if you do wish some of the characters make a return in the next book …
All in all – a great murder mystery that solidifies my opinion that JK Rowling is a master of the written word – please keep writing, Rowling, please. 
Anyone read this and agree?