I care not for riches, and do not miss them since only cleverness prevails in the end.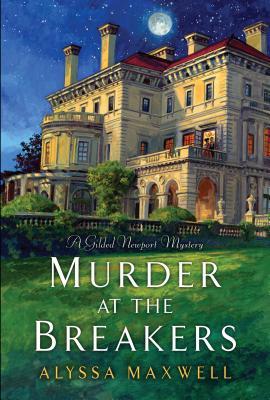 That line about sums up the main character, Emma – or Emmanline if you're from the Vanderbilt side of the family.
This book was recommended to me by my buying choices – I guess "female protagonist" "murder mystery" and "historical" summed me up nicely? That would explain my Netflix Recommendations lists existing mainly of "Strong Female Lead" and "Because you watched Buffy the Vampire Slayer" ….
Anyway…
Newport, Rhode Island, August 1895: She may be a less well-heeled relation, but as second cousin to millionaire patriarch Cornelius Vanderbilt, twenty-one-year-old Emma Cross is on the guest list for a grand ball at the Breakers, the Vanderbilts' summer home. She also has a job to do—report on the event for the society page of the Newport Observer.

But Emma observes much more than glitz and gaiety when she witnesses a murder. The victim is Cornelius Vanderbilt's financial secretary, who plunges off a balcony faster than falling stock prices. Emma's black sheep brother Brady is found in Cornelius's bedroom passed out next to a bottle of bourbon and stolen plans for a new railroad line. Brady has barely come to before the police have arrested him for the murder. But Emma is sure someone is trying to railroad her brother and resolves to find the real killer at any cost…
So, I know precious little of the American royalty that is the Vanderbilts. They were some big railroad bigwigs? By the sound of it, Dutch-descent, and I remember something about Andersen Cooper and Timothy Olyphant but that's about it. For the purposes of this story it is sufficient to know that they are extremely wealthy, based in Newport/NYC and generally frown upon New Money, the poor and anything potentially scandalous. Fair? Right – let's move forward then.
So, Emma our heroine is the poor relation of the Vanderbilts. She has an older half brother, her parents are living la vie boheme in Paris and she's struggling to make a go of it as a reporter, as the inheritance from a vivacious aunt doesn't go far to covering costs. She tends to be a tad dogmatic, and a lot in the vein of curious. She happens to be at the exact wrong place and the exact wrong time, but this is lucky, as it turns out, for her brother who is also in the wrong place at the wrong time – or at least, so Emma believes – when a man is murdered and pushed through a window. 
There are a few things worth mentioning right off the bat: if you like those stories that are set in a place that feels real – where the buildings are erected and you can feel the sea breeze – this is a book for you. Another thing is that – if you want to be guessing until the end … this book is likely not for you. 
Don't get me wrong – it's a fun read! It really is! I like the twists our heroine takes as she runs – or rather, drives herself in her carriage – around town, conducting her own murder investigation and generally being a thorn in the side of the police and her relatives. I read a couple of reviews online that claimed she was TSTL  – I don't agree. She's pushy, sometimes awkward, very rigid in some things, and unquestionably Victorian – but she's not TSTL. I think that  the book is a good start to a series – of which, the second book's first chapter is included in the back of this book – and I think the charm is the location coupled with the fictionalization of a famous family. 
I'd recommend it to those who want a good beach read.