"I wasn't certain of anything anymore, except that New Orleans was a faithless friend and I wanted to leave her."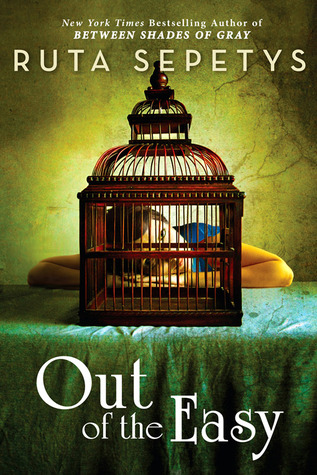 New Orleans is one of those places I need to visit at some point in my life. But until I get there, I will live through the books set there. Even if they are set in 1950 …
It's 1950, and as the French Quarter of New Orleans simmers with secrets, seventeen-year-old Josie Moraine is silently stirring a pot of her own. Known among locals as the daughter of a brothel prostitute, Josie wants more out of life than the Big Easy has to offer.

She devises a plan get out, but a mysterious death in the Quarter leaves Josie tangled in an investigation that will challenge her allegiance to her mother, her conscience, and Willie Woodley, the brusque madam on Conti Street. Josie is caught between the dream of an elite college and a clandestine underworld. New Orleans lures her in her quest for truth, dangling temptation at every turn, and escalating to the ultimate test.
Josie Moraine may be in her teens, but this is not a kids' book. This book takes on the underbelly of the crime world – from thieving mothers to deadly mob runners to having to keep a gun on one's person for fear of attack. It does this through the eyes of a girl who grew up too fast, but nonetheless it's all still there – sometimes painfully so. There is also a lot of hope – a lot of love, even. Josie is a great character – she is weary, skeptical and all things you'd expect from a hardened ninety year old spinster, even though she's not yet twenty. And yet, throughout the book there are these glimpses of hope – the world is yet her oyster, even if it hasn't opened up all the way just yet.
We open with Josie moving to New Orleans as a child with her mother – specifically to Willie's brothel house, where her mother will whore and Josie will clean and try to stay as far away from criminal element as possible. Willie's has a great cast of characters, led by the ultimate character of Willie herself: straight talking, quick shooting hard ass, Willie is the epitome of that old Madame trope, where she loves her girls, but also isn't afraid to whoop them for their own good. She's a business woman first and foremost, but she has a soft spot for Josie, and a realistic view of life. She's a fun read all by herself – her with her Cadillac and her liberal politics and her sass. She's also the backbone for Josie's character.
You see, Josie oscillates between the two real female role models in her life: her own mother and Willie. The former is weak willed, perhaps likes shiny things a little too much (more than she likes her daughter at times) and is vainglorious to a fault. The latter is tough as nails and made her way up in the world through hard work. Neither is perfect, and honesly, neither should be. Josie feels great loyalty to both, even though she tried hard not to beholden to her mother. There are times in the novel where she recognizes her own faults, compares them to her mother or to what Willie would say if she found out, and those parts hold the magic of the whole story between these three women that continues throughout the last chapter, even after Josie begins to realize that the world is a lot more complicated than good and bad, and that tragedy and happiness are not always mutually exclusive.
"Jesse motioned to my hair. "Looks like you've been in the bath yourself." He settled into a chair on the front porch.
"I had just washed my hair, but then I had to go shoot someone. Do you want a cold drink?"
All in all, it's a great read. It's complicated and slow at times, there's a lot of self reflection on Josie's part, and there will be times where you roll your eyes and think to yourself Josie, girl, you gotta get over this … but ultimately, it's a deep reading – everything happens in such a short frame of time, and there are characters and events shooting out from the margins of the story to suddenly take a bit of the center stage that you're mind's kept busy, even though you're still stuck back on the first page where a child, Josie, makes up a martini for Willie and the whole affair begins.