After weighing the pros and cons, I've decided sex with you would be mutually satisfying. You're attractive and pleasant. And clean. You kiss very well, and while I've found that's not always a reliable gauge for skill in bed, it often follows. If you're agreeable, we can finish dinner, I'll show you the greenhouse, then we can go in and have sex. I'm on birth control, but I would require you wear a condom."
Ah.
Gems, this book – full of gems.
Like the above.
Review after the jump.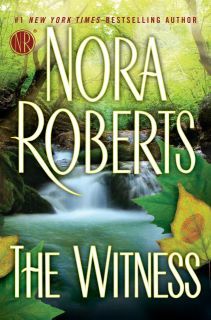 Daughter of a controlling mother, Elizabeth finally let loose one night, drinking at a nightclub and allowing a strange man's seductive Russian accent lure her to a house on Lake Shore Drive. The events that followed changed her life forever.

Twelve years later, the woman known as Abigail Lowery lives on the outskirts of a small town in the Ozarks. A freelance programmer, she designs sophisticated security systems — and supplements her own security with a fierce dog and an assortment of firearms. She keeps to herself, saying little, revealing nothing. But Abigail's reserve only intrigues police chief Brooks Gleason. Her logical mind, her secretive nature, and her unromantic viewpoints leave him fascinated but frustrated. He suspects that Abigail needs protection from something — and that her elaborate defenses hide a story that must be revealed.
I picked up this book while browsing in the library. A Nora Roberts book I haven't read yet (she has over 200, so not surprising) and me with some spare time, so I grabbed it. Finished it within a couple of days, emotionally distraught over these characters. Sigh. Only Nora.
The thing about Nora Roberts is that she has a tendency to draw you in with an extensive backstory in the opening chapters of the book – like an extended prologue. She sets the stage for our main character – whether the boy or the girl or both, and then hammers it into you just how much everything went to hell. This isn't necessarily something that happens in all of her books, but there are enough now that I have marked it as a NR pattern. The extended prologue for The Witness is heartbreaking – no seriously, I felt my heart break a few times. We're introduced to Elizabeth – a very bright, very closeted young girl who has, by the time we arrive on the scene, had enough of her Mother's control over her life. Having been sacrificed for her mother's own desires one too many times, Elizabeth decides she will show up her mother by disobeying her – namely, by dyeing her hair, cutting it short and blowing off an early start to the school year by going out with a classmate instead. Unfortunately for our heroine, everything goes sideways and at the end of our (very long) prologue, she is alone and running from a very real danger.
By the time we meet up with Elizabeth again, she is … well, no longer Elizabeth. Instead, she is calling herself Abigail and she has just moved to a little town in the Ozarks in order to protect herself from the ongoing threat that began years ago. She's still, in many ways, that same girl – she's very intelligent, extremely logical and almost emotionless – she refuses to make connections with her neighbours in case they end up in the line of danger she herself imagines she is always in, and she really only had her dog and her computer for companionship. Like the girl she was, she has an authority over her own life that makes a certain amount of sense – it's as if the events that changed her life stilted her own growth in that aspect – she had uber control over her life in the same way that she had to accept when she ran away from the danger years before. It's a combination of street smarts and book smarts that pushes her along, and into this tightly controlled life she's made for herself waltzes in Brooks.
Brooks is the opposite of Elizabeth (the girl) and a compliment to Abigail (the Woman): He was raised by a hippy artist mother and a caring father in a little town where he was encouraged to be what he wanted to be as long as he was happy. He had older sisters that drove him crazy, and in general had a very loose upbringing that forced hm to pick his own way – but with the support of those he loved. Compare that to Elizabeth who had no support, and Abigail who shies away from any overtures of support, and you can see why they are ideal for one another.
Not going to lie – the pace of this book is near glacial – the thriller parts of the story are scattered throughout, but are mostly playbacks from Abagail's own memories and fears of her present. The real threats are only really hinted at, for the most part. That being said – it works. The play between our two heroes is enough action to sustain the story – the ups, the downs, the way she pulls back and he keeps trying. More over – it's funny. Amidst all of the action and heartache, it's funny – Mostly due to Abagail's forced interaction with people she tried to stay away from so long (regular people) and Brooks' family.
All over – it's a good book ( as you would expect from Nora Roberts) – and it will keep you entertained. For me, it's a travel book, the type of book you tuck into while on the bus or on a plane – it's perfect for that, since the characters are traveling too.
Definitely pick it up!
What are you reading?