I like nothing better than a smart series of books with a smart main characters and bigger than life secondary characters to sweep me off my feet.
I think I have found that in these books – so much so that I finished the series … and only started it around my birthday in April.
That's how much I liked these stories.
Mini Reviews of Books 2 through 6 after the jump (Book #1 Review here):
The Janus Stone
It's been only a few months since archaeologist Ruth Galloway found herself entangled in a missing persons case, barely escaping with her life. But when construction workers demolishing a large old house in Norwich uncover the bones of a child beneath a doorway—minus its skull—Ruth is once again called upon to investigate. Is it a Roman-era ritual sacrifice, or is the killer closer at hand?

Ruth and Detective Harry Nelson would like to find out—and fast. When they realize the house was once a children's home, they track down the Catholic priest who served as its operator. Father Hennessey reports that two children did go missing from the home forty years before—a boy and a girl. They were never found. When carbon dating proves that the child's bones predate the home and relate to a time when the house was privately owned, Ruth is drawn ever more deeply into the case. But as spring turns into summer it becomes clear that someone is trying very hard to put her off the trail by frightening her, and her unborn child, half to death.
This book opens a little while after we left off of Book 1 and not a huge amount has changed … except (Spoiler Alert) Ruth is now pregnant following that one night stand with Nelson back in Book 1. If that weren't complicated enough, though, she's managed to get herself embroiled in another murder mystery – and this one is actually quite interesting with orphans that pop up in history, a new archaeologist friend, and excerpts from a chilling diary, Ruth has managed to put herself in the crosshairs of someone very dangerous.
The continuation of Ruth's story is pretty tight – she's still very capable, very intelligent and she hasn't really come to grips with the changes her life is on the cusp of. She's insightful without being a bore, and it's so easy to get caught up in her own point of view that you can forget what the other characters are indicating. The mystery is one full of red herrings, which makes me appreciate it all the more, and by the time you get to the end, you're so tired from flipping back to the first few pages to look for clues you might have missed that you just sit back and watch it play out.
Delightful and wicked – a great sequel to the first book!
The House at Sea's End
Just back from maternity leave, forensic archeologist Ruth is finding it hard to juggle motherhood and work when she is called in to investigate human bones that have surfaced on a remote Norfolk beach. The presence of DCI Harry Nelson, the married father of her daughter, does not help. The bones, six men with their arms bound, turn out date back to World War II, a desperate time on this stretch of coastland.

Home Guard veteran Archie Whitcliffe reveals the existence of a secret the old soldiers have vowed to protect with their lives. But then Archie is killed and a German journalist arrives, asking questions about Operation Lucifer, a plan to stop a German invasion, and a possible British war crime. What was Operation Lucifer? And who is prepared to kill to keep its secret?
I will admit – I am not entirely interested in World Wars – era things. I tend to get a little bored with tales of war maneuvers and such. So going into this I didn't have the highest of expectations. But giving that I loved the first two books in this series, I thought to myself – why not?
The mystery is a good one – it follows a trend, I think, of re examining war times in Britain that has becomes so popular of late in the UK. And in that effort – it succeeds. It's a more laid back affair than the previous two installments – Ruth now has a baby and is struggling with the day to day of it. This book brings out Cathbad even moreso than the others as a true friend of hers – helping her when she least expects it, and always on her side. The interactions between the characters is fun – there's a lot of tension in some parts, mostly due to who knows, who suspects and who doesn't know the identity of Kate (Ruth's baby)'s father, but the general rolling fun of the first two books remains solid, and it's well worth the read!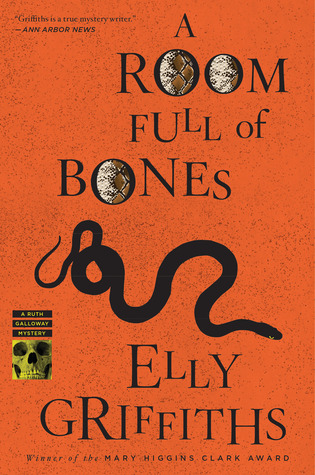 A Room Full of Bones
Set in Norfolk, England, A Room Full of Bones embroils, once again, our brainy heroine in a crime tinged by occult forces. On Halloween night, the Smith Museum in King's Lynn is preparing for an unusual event — the opening of a coffin containing the bones of a medieval bishop. But when forensic archaelogist Ruth Galloway arrives to supervise, she finds the curator, Neil Topham, dead beside the coffin. Topham's death seems to be related to other uncanny incidents, including the arcane and suspect methods of a group called the Elginists, which aims to repatriate the museum's extensive collection of Aborigine skulls; the untimely demise of the museum's owner, Lord Smith; and the sudden illness of DCI Harry Nelson, who Ruth's friend Cathbad believes is lost in The Dreaming — a hallucinogenic state central to some Indigenous Australian beliefs. Tensions build as Nelson's life hangs in the balance. Something must be done to set matters right and lift Nelson out of the clutches of death, but will Ruth be able to muster herself out of a state of guilt and foreboding in order to do what she does best?

This has probably been my favourite Ruth Galloway story yet. Not only because of the strange circumstances of the medieval Bishop (and the introduction of Janet Meadows and Bob Woolunga) and of all the controversies necessary of a story that concerns anything Elgin-marbles related – but because through the whole thing, for the first time in this series for me, I couldn't guess who had done it. At all. That was how close to the vest this was played and it totally works! It's a well written mystery, with multiple angles and prongs and was masterfully woven together.
The social part of the story – the part where Ruth has to muster through as a single mother, trying not to think of her Baby Daddy – that part was less fun. Worse because you see both sides of it, spending time in Ruth's head during her narration, and time in Nelson's head during his narration. All in all, though, this book was my favourite – not only because I didn't guess who the killer was, but because I guessed so often and was so wrong! Brilliant!
A Dying Fall
Ruth Galloway is shocked when she learns that her old university friend Dan Golding has died tragically in a house fire. But the death takes on a sinister cast when Ruth receives a letter from Dan written just before he died. The letter tells of a great archaeological discovery, but Dan also says that he is scared for his life. Was Dan's death linked to his find? The only clue is his mention of the Raven King, an ancient name for King Arthur.


Then Ruth is invited to examine the bones Dan found. Ruth travels to Lancashire-the hometown of DCI Nelson-with both her eighteen-month-old daughter, Kate, and her druid friend, Cathbad, in tow. She discovers a campus living in fear of a sinister right-wing group called the White Hand. She also finds that the bones revealed a shocking fact about King Arthur-and they've mysteriously vanished. When Nelson, visiting his mother in Blackpool, learns about the case, he is drawn into the investigation, especially when Ruth and his beloved Kate seem to be in danger. Who is willing to kill to keep the bones a secret?
So we left Ruth and Kate in the last book with a sort of compromise with Nelson and his wife Michelle that wasn't entirely satisfying. Now, Ruth does what she does (and does so well!) and takes off on a calling, northwards, with daughter and beste Cathbad in tow, in order to help solve a mystery sent to her by a friend's letter just before he died. And of course, he died mysteriously – in a fire – and the people who surrounded him and his dig were all very competitive and strangely secret. The mystery of it all is very long-winded and there are times where I got confused as to who belonged to what group and what was going on exactly (bloody academics) but in general – the ending – was satisfying and well played out.
Socially, the book toddles along like Katie, the little person stuck between her single mother, her married father and all the other players who love and adore her – including now, too, Nelson's wife Michelle, Kate's godfather Cathbad and possibly even, Nelson's unknowing Mother. MUCH more satisfying in this book than in the previous – it was a good way to point the series!
The Outcast Dead
Forensic archaeologist Ruth Galloway uncovers the bones of a Victorian murderess while a baby snatcher threatens modern-day Norfolk in this exciting new entry in a beloved series.
Every year a ceremony is held in Norwich for the bodies in the paupers' graves: the Service for the Outcast Dead. Ruth has a particular interest in this year's proceedings. Her recent dig at Norwich Castle turned up the body of the notorious Mother Hook, who was hanged in 1867 for the murder of five children. Now Ruth is the reluctant star of the TV series Women Who Kill, working alongside the program's alluring history expert, Professor Frank Barker.

DCI Harry Nelson is immersed in the case of three children found dead in their home. He is sure that the mother is responsible. Then another child is abducted and a kidnapper dubbed the Childminder claims responsibility. Are there two murderers afoot, or is the Childminder behind all the deaths? The team must race to find out-and the stakes couldn't be any higher when another child goes missing.
I just finished reading this on Saturday night.
Read it all through m "bedtime" and beyond. So worth it.
So here we are – it's been about a year or so since our last installment. Kate is now 3 years old nearly, and Nelson and Ruth have an arrangement whereby he sees her pretty often. Ruth is getting along swimmingly with a dig, when of course, her discovery prompts "TV People" to come around to film a "documentary" called Women Who Kill based on the probable identity of the skeleton Ruth has just found. Fans of Ruth will probably figure: She isn't exactly thrilled.
The mystery here is very different from the previous books – there seems to have been a turn for the subtle in Griffiths writing, and the real mystery – the meaty part, isn't really discussed at all until about half way through the book. Until then, we're kept plenty busy with other affairs – of the heart and the head, and the side archaeology mystery of the skeletons Ruth found, and whether or not the historical record was accurate when they condemned the one nicknamed Mother Hook to hang. It's a story, like A Room Full of Bones, that echoes the contraversies of a particular debate and then solves it in the most logical way possible – in this case, coming to the uneasy realization that not everyone will be happy with the same outcome. It's a wonderful side-mystery that kept me thoroughly entertained while I waited for killers and mayhem, and I highly recommend this book based just on that!
In general, the Ruth Galloway series is just wonderful – murder mysteries, archaeology, overly religious parents, new daughter and a career woman through and through – Ruth is just a wonderful character to follow around for a few hours. She brings a much needed realness to the genre – both her pragmatism and her own looks. These books are solid and I highly recommend them all.
What have you been reading?